Tipton Health clients can now receive discounted access to the high-quality, evidence-based e-courses offered by Nurse Builders, a premier nursing education company that supports clinical practice excellence through certification review and continuing education.
Contact Nurse Builders to set up your account. Be sure to specify you are a Tipton Health client to receive your 5% discount!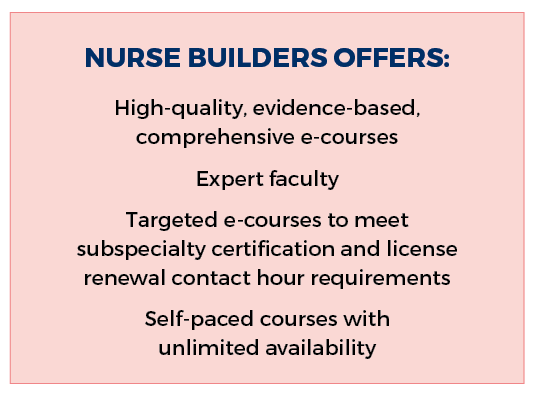 Nursing Certification Review E-Courses
These courses include:
High-quality, evidence-based, comprehensive,
up-to-date content
Expert faculty presenting via audio/video and handouts
Self-paced courses with unlimited viewing availability
Interactive exam-style Q&A after each session
Test-taking techniques
ANCC contact hours and printable CE certificates
Access to instructors for Q&A
Access to completion reports
Ability to view program sessions as a group
Unlimited tech support
18 E-Courses Available:
Pediatrics 
CPN & RN-BC | CPEN | Pediatric CCRN | CPHON | NCSN
Mother-Baby 
C-EFM | RNC-OB | RNC-MNN | RNC-LRN | RNC-NIC
Education & Leadership 
NPD | CNML & NE-BC | CENP & NEA-BC
Adult 
CMSRN & RN-BC | PCCN | Adult CCRN | CEN | CNOR
Nursing Continuing Education
E-Learning Series
Nurse Builder's CE Library offers over 75 contact
hours through courses including:
Subspecialty CE Topics:
Pediatric
Pediatric critical care
Pediatric emergency
School
Nursing professional development
Leadership
Adult progressive care
Adult critical care
Medical surgical
Perioperative
Emergency nursing
Neonatal
Maternal-newborn
Professional Development Content:
Leadership
Communication
Quality care/EBP/Research
Diversity
When you turn to Tipton for support with a project, you are in the hands of experts committed to delivering high-quality, thoughtful and strategic results.

Learn more about our comprehensive services —