RETAIN: Modernize Your Retention Program for a New Generation
Reduce new nurse turnover and improve patient outcomes.
Nursing has changed. Not only has our healthcare environment changed, so have the faces. Modern nursing teams must strive for inclusion and welcome new ways to support the new generation of passionate nurses. Do your nurse leaders understand the unique needs of the GenZ? Has your team updated its structures and programs to support nurse retention and professional growth?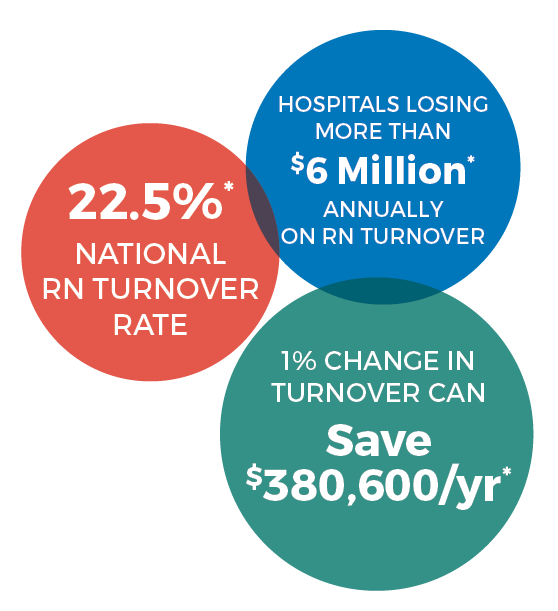 Contributing to the high RN turnover rate, nearly 25% of new nurses leave their positions within the first year of practice. Investing in retention programs can reduce your workforce challenges while contributing to improved patient outcomes and nursing satisfaction. The Tipton Health Retention, Excellence, and Transitions Advancement in Nursing ("RETAIN") Program was created to provide a customized solution to focus on just that: supporting and driving actions that target nurse turnover and retention for nurses in the first two years of practice at your organization.
Program Benefits:
Targeted to address your greatest workforce challenge
Customized to align with your organization and vision
Evidence-based solutions ensure measurable outcomes
Impactful results will enculturate change and improved satisfaction
Schedule a complimentary call with a Tipton expert to learn how we can help you with this program or other custom, Nursing Excellence solutions to meet your strategic goals.
Tipton's consultants have a broad range of experience ranging from clinicians, executive leaders, education and professional development specialists, and faculty in academic settings with specific experience leading, training and educating the new generation of nurses in both academic and organizational settings. Our experts partner with your organization to develop an individualized strategy to optimize programs that influence retention among new nurses.