Welcome!
Thank you for reading Tipton Health's Summer 2022 Nursing Excellence Newsletter. In this edition, Tipton Health's executive nursing excellence consultants address some of the topics that are top-of-mind for nurse leaders right now. From an overview of four key areas that will impact the nursing profession into the future to a fresh look at alternate care deliver models—we've got you covered.
Article Navigation
A Heartfelt Thanks to Our Valued Nursing Partners
Dear Nursing Partners,
On behalf of the entire Tipton Health team, we extend our heartfelt admiration and gratitude for your unrelenting leadership and dedication to the sacred calling of our great profession. Over the past two years, we have been honored to witness your courage, compassion and fierce support of your teams and the patients you serve.
At Tipton Health, our calling is to support your calling. We exist to exalt the profession of nursing by enabling nurse leaders and their teams to achieve the vision for nursing excellence to which they aspire, and which all patients deserve.
In the same way that professional practice models (PPM) provide a framework to guide nurses as they care for patients, families and community members, Tipton Health has established the first-ever nurse consultancy professional practice model. Our PPM has been developed for you and about you; it will guide the Tipton team as we come alongside you on your journey to nursing excellence.
Our Professional Practice Model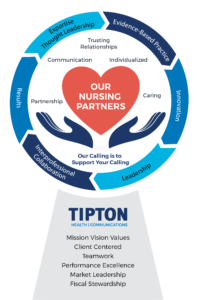 Our Focus is You: It is you, our nursing partners, who are the heart of Tipton's professional practice model.
Deep Caring Relationships: Through your feedback, we have learned that you value a strong partnership, the establishment of trusting relationships, flexibility to individualize services, honest communication and, most importantly, consultants who truly care about you, your team and your aspirations. It is for this reason that these values are prominent tenets of our model.
Exceptional Nursing Expertise: The outer circle of Tipton's PPM includes the foundational elements of Tipton Health: evidence-based practice, innovation, leadership, interprofessional collaboration, results and expertise/thought leadership.
Organizational Strength: The model is fortified by the solid foundation of the Tipton Health mission, vision, values and business model. Tipton's PPM reflects who we are and all that we value; it will guide our team into the future.
Speaking of the future, in recent months Tipton Health has grown our executive nursing excellence consultant team, amassing a cadre of nurse leaders who are highly talented experts in nursing excellence and leadership. This year alone, Tipton will invest over $1 million in hiring some of the best and brightest leaders in the realm of nursing excellency and healthcare communications. This is an investment in you and for you.
We know that these remain challenging times and that it will take a while to regain momentum and strengthen our great profession. We also know that nurses are fierce in their dedication, love and commitment to relieving the suffering of others and advancing the profession of nursing.
Our sincere desire is that you and your team feel cared for in all that we do. Please know that Tipton Health's utmost desire is to meet nurse leaders right where they are to deliver timely, relevant solutions that allow you to elevate your organization's nursing practices to nothing less than exceptional.
With gratitude and admiration,
Dan Tipton
President/CEO, Tipton Health

Mary Del Guidice
Chief Nursing Officer, Tipton Health

Nursing, This is Our Moment

COVID-19 has been a master teacher across the globe and across industries, but particularly in the realm of health care. It laid bare existing concerns about the United States' shrinking public health apparatus, our widening disparities in health care and the impact of social determinants of health on our communities.
Additionally, it amplified concerns about the nursing workforce, including workplace environment, stagnant salaries, disparate distribution of nurses across the country and the looming 20% of nurses who indicate they will retire in the next five years (ANA, 2021).
Despite these aforementioned stressors, the nation's 4.2 million nurses are well-positioned to take a deep breath in this post-COVID-19 era in preparation for making a tremendous impact on urgent issues that were overshadowed during the pandemic.
Four key areas will impact the nursing profession moving forward: the stability of our workforce, the diversity of our workforce, the ability of nursing education to align with the needs of the profession and the need for nurses to be involved in health policy at all levels.
Stabilizing the Work Force
Nurse leaders know that a stabilization of the work force is an essential step in 2022. Focusing on the work environment and understanding the factors that caused the departure of many nurses from their regular positions to travel, retire and retool is essential.
It is not enough to prepare new nurses for the nursing work environment that awaits them: We must also prepare the work environment to welcome these new nurses and engage them for the entirety of their professional lives by using all available tools, including Institute for Healthcare Improvement's resources for creating joy in work.
Additional opportunities for engagement are available in the realms of community, health policy, health promotion, professional growth, leadership and other high-impact opportunities.
Diversity in Nursing
Nursing must now face important contextual issues such as gender equality, climate change, universal health coverage and social determinants of health. Diversity in our workforce should be viewed as an investment in every citizen's safety and security. A more diverse workforce is better prepared to address social determinants of health—something that challenges 68% of patients seen. Today, 81% of working RNs identify as white or caucasian and only 12% identify as male.
Nursing Education
Investing in nursing jobs, nursing education, nursing leadership and service delivery should also be viewed as an investment in every citizen's health and safety.
Nurse leaders and nurse educators must build a greater partnership than ever before. Nurse educators across the country must hear from nurse leaders what hard and soft skills are essential today in order for young nurses to be successful as new-to-practice nurses, as well as lifetime members of the profession.
Health Policy
Addressing the future of nursing must include a focus on health policy. In order to effectively address the health of a nation and a society, nurses must be in the boardroom at the decision-making table.
Discussions where nurses are essential include those related to health promotion, social determinants of health, health education and the healthcare workforce. Focusing on the importance of health policy should begin in nursing programs and continue in the professional setting.
Conclusion
For the 20th straight year, Americans have rated nurses as the most trusted profession (Gallup, 2022).
Having navigated two years of the global crisis of the COVID-19 pandemic and its impact on hospital census, staffing levels, nursing turnover and the cost of premium staff such as travel nurses, the honor is hard won.
Along with this honor, nurses carry the responsibility to continue working to impact the nursing profession in a way that will positively affect the lives of future generations of both nurses and patients.
A Tipton Health Nursing Excellence White Paper
BATTLING BACK FROM HOPELESSNESS: Resilience Interventions for Nurse Leaders

Tipton Nursing Excellence Executive Consultant Pamela Power, DNP, MSN, BSN, ACNS-BCD, presents evidence-based interventions that can help nurse leaders to build resilience through increased social connectedness, self-care, optimism and gratitude. With more than 35 years of nursing experience, Dr. Power held leadership roles in clinical and academic settings, spanning from chief nursing officer to chair of a Baccalaureate program. She helped Pennsylvania Hospital earn its first American Nurses Credentialing Center (ANCC) Magnet® designation. Most relevant to these times, Dr. Power's doctoral work focused on nurse leader resiliency.
A Fresh Look at Alternate Care Delivery Models

COVID-19 convinced many nurses to leave the profession or seek non-acute care positions, exasperating what was already becoming a crisis in nurse staffing for the nation's hospitals.
The staffing challenge has not waned. Nurse leaders now find themselves managing a workforce heavily scarred by the stress of COVID surges while figuring out innovative ways to maintain staffing when there simply aren't enough nurses willing to fill open positions.
Nurse leaders have to get creative—and they are, as demonstrated by a recent literature review on alternative staffing models conducted by Tipton Health's Director of Nursing Excellence and Client Advocate Emily Brooks, DNP, RN-BC. Dr. Brooks augmented the review with information from colleagues.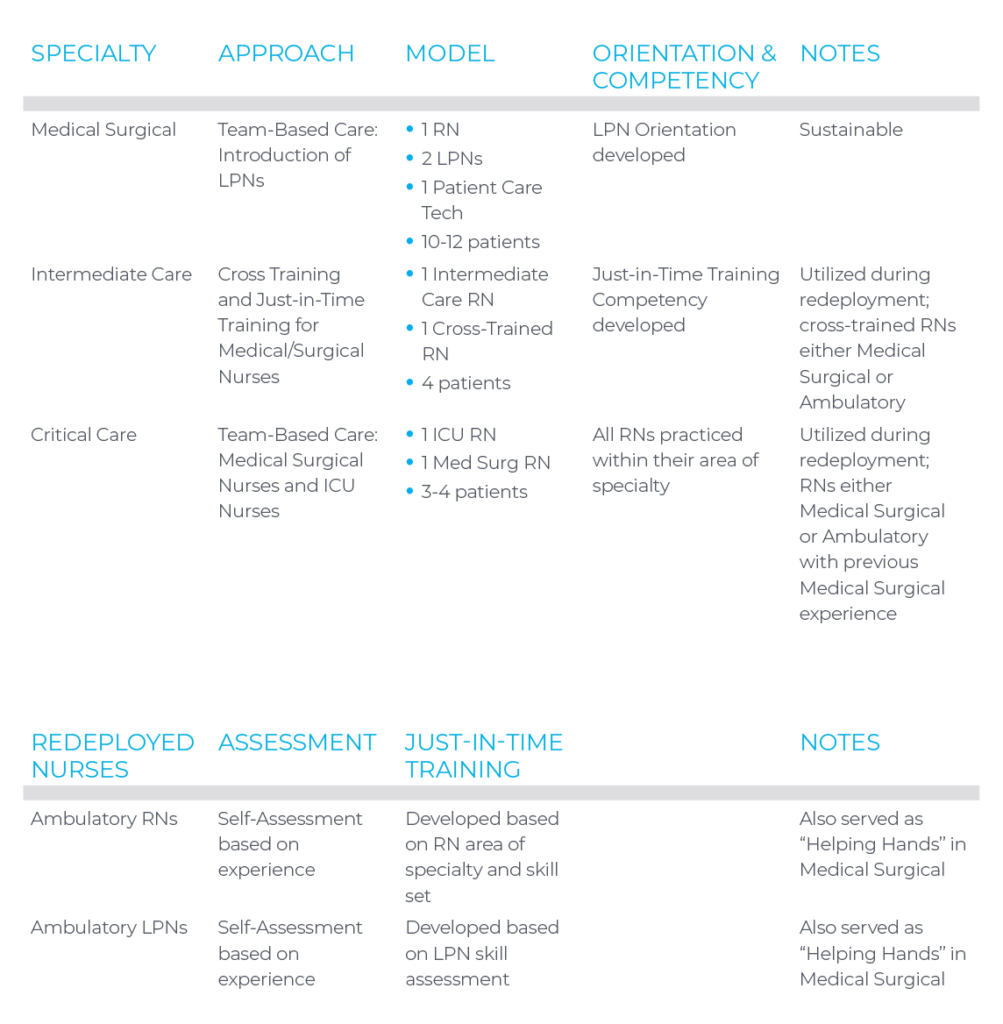 Have a question or want to talk about care delivery models at your organization? Please contact Dr. Brooks at emilyb@tiptonhealth.com.
What's New in the 2023 Magnet Manual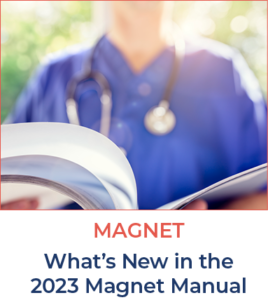 With the nursing work environment rapidly evolving, the American Nurses Credentialing Center (ANCC) has updated its Magnet® Recognition Program framework for nursing excellence to better address contemporary nursing priorities. The 2023 Magnet Application Manual increases emphasis on nursing work/life balance, ambulatory care, diversity, health and safety, growth and development, and recognition and involvement.
The new manual can be used by organizations submitting for Magnet designation in 2023 and must be used by organizations submitting in 2024 and beyond.
What Has Changed
While most of the program details are unchanged from the 2019 Magnet manual, following are a few of the key changes in the new manual:
More evidence is required. The number of sources of evidence (SOEs), ambulatory care narratives (Amb) and empirical outcomes (EOs) has increased.
| | |
| --- | --- |
| 2019 Manual | 2023 Manual |
| 94 SOEs, 7 Amb, 27 EOs | 103 SOEs, 14 Amb, 28 EOs |
Continue to focus on quality improvement initiatives in your ambulatory areas. The new manual has doubled the number of ambulatory sources.
Research requirements are increasing. NK1 now requires a description of your hospital's infrastructure that supports nursing research. NK2 is a nursing research study conducted at your hospital. Ensure that your principal investigator is employed by your hospital.
Nurse retention is a key focus of the new manual. In the new EP12EO, you must now establish and meet targeted year-over-year goals for nurse turnover rate.
For RN Nurse Satisfaction/Engagement (EP3EO), organizations can now target units that underperform in nurse satisfaction surveys with follow-up "pulse" surveys. The targeted pulse survey results can then be included with the results from the original nursing-wide survey.
Each Empirical Outcome narrative now requires at least two APA format references to demonstrate that interventions were evidence-based.
What You Should Do Now to Prepare
Become familiar with the 2023 Magnet Manual; identify areas for your nursing teams to focus (ambulatory, nursing research, nurse retention) and develop action/work plans. Having a deeper understanding of the specific requirements in the new manual will help you begin initiatives to meet the criteria.
Create nursing teams to work on the individual Magnet program model components (Structural Empowerment, Transformational Leadership, New Knowledge, Exemplary Professional Practice).
Engage and include clinical nurses in unit, division and organizational-level committees. Clinical nurses are the main character in over 30% of the Magnet criteria; over 10% of the narratives include interprofessional teams.
Identify your nurse retention rate data at the organization level and begin tracking yearly data; implement initiatives to reduce your nurse turnover rate.
Assist clinical nurses to access the latest nursing literature, enlist support of your medical/nursing librarian to identify nursing evidence-based practices.
Increase your nursing research focus by building and strengthening your nursing research infrastructure.
Continue ambulatory quality improvement initiatives; establish an ambulatory Magnet council to share ideas on QI initiatives, policies and procedures.
Focus on clinical, patient and patient satisfaction outcomes and outcome measures—while compliance and adherence to processes are essential, Magnet will not accept data related to compliance. You always want to report the real outcome of your QI initiatives.
Strengthen structures and processes around meeting minutes, documentation of team communications (email, minutes), and implementation/action plans. Post these on your intranet for all to use
Remember that documentation is essential for your Magnet application; as you work with your nursing teams, document the dates of your interventions and record key decisions and activities of your teams. Doing this along the way will make writing your Magnet document much easier!
This is not a comprehensive list of all the changes in the 2023 manual. If you have any questions, at any time, please contact Tipton at magnet@tiptonhealth.com.
The Journey to Inclusive Leadership

What implicit biases do you have? Want to find out?
Here's a test. You have two candidates for a nursing position. One is a man and the other is a woman. Who do you think would be more nurturing to your patients?
Did you feel any biases get in the way of your answer?
"Everyone has biases," said Tommye Hinton, MSN, RN, CPHQ, NEA-BC, in her Tipton Health webinar on how nurse leaders can advance diversity, equity and inclusion. "The only shame is not working to recognize your own biases and how they may be having an impact in your leadership."
Those implicit biases, if left unchecked, can manifest themselves in microaggressions, such as small, off-the-cuff comments that reflect assumptions or generalizations based on some elements of a person's identity.
"Microaggressions can create a hostile work environment if you're not careful," Hinton cautioned.
Hinton, who has more than 40 year of nursing leadership experience and who was often the only black leader within her hospitals' executive teams, recalled the time when a hospital leader remarked after she gave a presentation on how well-spoken she was. Hinton later took the person aside to help him recognize the implicit bias in the remark.
Recognizing bias and taking action is critical for nurse leaders seeking to create a more inclusive culture, said Hinton, who serves as an executive nursing excellence consultant with Tipton Health and manages a leadership development consultancy.
"It is the leader who truly upholds the organization's principles and brings the organization's vision to life. It is the leader who promotes inclusivity that really makes this real and makes team members feel their organization's mission," Hinton said.
The journey to inclusive leadership requires individuals to get out of their comfort zone and it requires continuous attention and work.
"Practice makes promise. Practice makes priority. Practice makes permanence," Hinton said.
Want to see whether you have implicit biases?
Take the free, online Implicit Association Test—offered through Harvard University's Project Implicit, which is designed to help individuals determine their level of awareness and biases.
View Our Nursing Excellence Education Resources
Visit tiptonhealth.com/webinars to view our comprehensive library of nursing-focused, on-demand webinars and presentation materials. If there is a topic you'd like to see discussed in a future webinar, email us at info@tiptonhealth.com.
Meet the Award-Winning Tipton Health Magnet Document Review Team
Tipton Health recently celebrated its inaugural Nursing Excellence Awards, honoring team members who have made notable contributions to our clients' success. Tipton's Magnet document review team received the Results Award, a tribute to their clients' 100% success rate at achieving Magnet designation. The document review team works diligently every day to help Tipton's clients shine their brightest.
Elizabeth Abrahams

Director, Magnet Review

Moira Owens

Senior Manager of Magnet Review

Gen Griffith

Magnet Review Manager

Lindsey Owens

Magnet Review Manager

Greg Tolliver

Magnet Review Manager

Terri Vian

Magnet Review Manager
All team members can be reached by phone at 302-454-7901.
Congratulations to Our Newly-Designated Clients

Tipton Health would like to extend a huge congratulations to our clients who have received Magnet or Pathway designation since the publishing of our last newsletter. It is our privilege to partner with you on your journey to continued nursing excellence. Your relentless dedication and tireless efforts have paid off!
Magnet
Beaumont Hospital, Farmington Hills
Farmington Hills, Michigan
Inova Mount Vernon Hospital
Alexandria, Virginia
University of Michigan Health
Ann Arbor, Michigan
Memorial Hermann Sugar Land Hospital
Sugar Land, Texas
Montefiore Medical Center, Wakefield Campus
Bronx, New York
Providence Holy Family Hospital
Spokane, Washington
Pathway
OhioHealth Marion General Hospital
Marion, Ohio
Prisma Health Hillcrest Hospital
Simpsonville, South Carolina
MedStar Washington Hospital Center
Washington, DC