Welcome!
Thank you for reading the Fall 2020 edition of Loud and Clear — a communications newsletter from Tipton Health. This edition features recommendations on how to effectively navigate the workplace in the "new normal," ensuring that employees are top-of-mind during a COVID open enrollment process, and other tips and insight from the experts at Tipton Health Communications.
Article Navigation
---

How to Navigate the Workplace in the 'New Normal'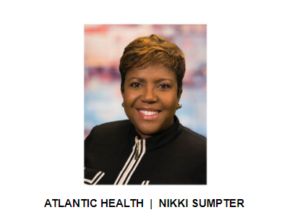 For Nikki Sumpter, senior vice president and chief human resource officer at Atlantic Health System, this is a time for organizations and individuals alike to reexamine their best practices. Some old habits and methods may have to be scrapped. At the same time, some new approaches should be adopted to ensure that both employers and employees are moving forward together in a safe, mutually beneficial way.
However, Nikki says long-term plans don't have to be scrapped completely. But sometimes to move forward, you must first reposition yourself in the place where you are.
Achieving Harmony in a Time of Chaos
Atlantic Health System is a team of more than 17,000 members, and one of the primary topics that Nikki covered during a Facebook Live event is the phenomenal job everyone has done in the past months. "In caring for patients, families, and each other through COVID-19. This has been a trying time… and we have rallied together. We should all be proud of the work we've done."
As organizations like Atlantic Health System look to the future, plans made before COVID-19 must be adjusted. "That doesn't mean that everything's off the table that we'd planned," Nikki stressed. "We just have to nuance differently." Public health must now be considered in new ways, in view of the ongoing pandemic.
In Nikki's professional opinion, as organizations look to get back on track, among the most important processes they can employ is effective communication, which means listening. "Make sure," Nikki said, "to create environments where team members have an opportunity to voice concerns. Address any fears that may be there.
"And then once back in the workplace, check to make sure that people have what they need," Nikki said. Organizations need to provide teams with all the appropriate tools, "including personal protective equipment. Keep your team safe so that they can focus on the patient.
"Pay attention to the need for decompression," Nikki continues, "and the need for folks to step away and get rejuvenated." Especially in an industry such as health care, allowing team members to rest when they can helps prepare them for surges that may come later. "Try to be prepared, get ahead of it, and use your time right."
Even at a time of absolute crisis and frequent chaos, Atlantic Health System's 17,000 team members pulled together and were able to work in unison to provide the care and services needed by their community. In part, this was helped by Atlantic Health System's culture of listening and of providing for both physical and emotional needs.
Reimagining Productivity
After methods are in place to ensure that time will be made for conversations, and that both physical and emotional needs are addressed, organizations must decide what's important to their business. Focusing on those things, while keeping both customers and employees safe, is the path to success.
Redefine productivity and how it's measured, and reimagine what work looks like. "Do you have an environment where team members can be equipped to work from another location?" Nikki asked. "And that doesn't necessarily mean home." Finding off-site locations – or even outdoor locations – that allow people to spread out or do their work differently are the kinds of strategies that organizations need to employ in a post-COVID-19 world."
Supplying masks, sanitizer, and handwashing stations are necessary, but insufficient, steps. "Think about those precautions that have been drilled into us over the last few months, and incorporate them into the work environment … It's not always natural for people to think, 'Okay, we're six feet apart.'" Barriers, signage, and other visual cues need to be included in the workspace to remind people of the new danger, and how they can avoid it."
As the lockdowns end and the economy picks up, success for businesses and other organizations won't look like a return to life before the novel coronavirus pandemic. Instead, Nikki said, "We have to think about what our next steps will be, and how we will move through that fluidly." For organizations and people, the goals they'd set for themselves pre-COVID-19 "can still be achieved. But a new level of focus has to be there."
COVID-19's Effect on Career Placement
Nikki's Community Conversation included many questions relating to finding work and career advancement, and one thing that she stressed is that not many things have changed in these regards.
One of the best ways to get noticed, Nikki said, is still to "create relationships. Reach out through LinkedIn … or stop by the human resources department and take your information directly" to the people who will ultimately make the decisions. "Call. Email. Visit their LinkedIn page. Send messages. Fill out applications online. Send your resume – and paper resumes still work! Send that information and continue to be in front of the talent acquisition consultant or recruiter."
One thing to keep in mind is that many organizations now use technology to parse applications, so that the most experienced candidates are presented to recruiters. So, particularly for digital resumes, Nikki stressed the use of language that is appropriate to the field and the position, so that the algorithms measuring an application will rate it highly.
Among all the disruption COVID-19 has wrought, Nikki still finds some positives for prospective employees. "There's a lot of free education out there from major universities," Nikki said, "as well as tools such as LinkedIn Learning, Coursera, edX…"
To really take advantage of those opportunities, the first step Nikki advised is to discover "what your passion is. What is it that you enjoy doing? What do you value?" From there, look for online programs. Almost certainly, somewhere a university, technical school, or community college is offering courses on that subject for free.
Getting degrees, certificates, or even just being better informed in a subject is a great way for an applicant to stand out from the competition, or to advance in a current position.
But for Nikki, the most important aspect of career advancement is the culture of communication. "Leaders should always have conversations with their team members about what's next," she advised. "How can we cultivate your development?"
Those conversations can continue in the COVID-19 era. "That can be done virtually," she emphasized. "But have the conversation."
For individuals looking to do something different, Nikki recommended asking for special projects in an area that interests them. "Maybe you're passionate about research. This is a time when many organizations are looking for other revenue sources. Offer to do some research. Offer up those skills that you have. Know where you want to go." The key to getting where you want to be is working for it. Look for educational opportunities. Look for career opportunities. And if they don't present themselves, reposition yourself so that you can move toward the place you want to be.
Health Care is Supporting Patients
Throughout the pandemic, Atlantic Health System didn't stop needing staff, and continued to hire roughly 100 people each week.
One thing Nikki stressed is that health care means supporting patients. Doctors and nurses are, of course, a big part of that, but patients also need people working in food service, supply chain management, and therapies of all kinds. Hospitals need architects and engineers. They need people working in human resources and marketing. "It takes all this and more to make patient care possible," Nikki said.
"I chose the right field," Nikki said, "because I'm able to support people to live their dreams. I'm proud of the work that I'm able to engage in, and to work with all the team members at Atlantic Health System. I can't say enough about how great this place is, and I really have to thank our community for supporting us."
---
Q&A: How Hospitals Can Educate the Public in a Time of Health Information Saturation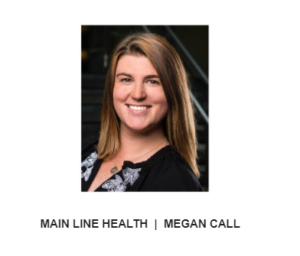 Megan Call, communications director at Main Line Health, shares her insight on the importance of developing effective external communications aimed at building health awareness and understanding with the general public. Main Line Health employs a strategy that not only educates the community about COVID-19, but also on how to maintain their general health and wellbeing.
Main Line Health's blog (mainlinehealth.org/blog) offers a wealth of wellness information. What is your strategy for creating compelling, informational and wide-ranging content that all audiences can understand?
We are constantly discussing this issue: How do we promote our strategic priorities and service lines while also balancing the interests of our audience and giving them information they want to read? We've gotten creative: In addition to promoting our primary care physicians by developing blogs that feature their expertise on everything from preventive health care to fitness and nutrition, we also have a library of articles where they talk about "odd" or embarrassing health questions our patients have—things like, "Where did that mystery bruise come from?" "What causes 'dad bod'?" and more. We also pay close attention to what's performing well and try to deliver the content our audience is reading and has demonstrated an interest in.
How do you determine what type of content to create and post to the system's different communication channels?
We get content submissions from many individuals and functions across our organization and—in most cases—we can find ways to share this with both internal and external audiences. Our philosophy is "Create once, publish everywhere!" Of course, content needs to be tailored to the audience it's being shared with, but we are always evaluating how we can use content to inform and engage several different groups: patients, employees, donors, etc. There is rarely ever a piece of content that comes along that is only appropriate for one of these groups.
With COVID-19 being a large part of everyone's daily life, how do you strike a balance of presenting pandemic-related health information and sharing insight on preventive care/overall well-being?
I think we are always trying to think a month or two ahead—as much as you can during an unforeseen pandemic, at least! People know to wear a mask and to wash their hands, but what they're really wondering is, "How can I give my kids a normal Halloween?" "Is it safe for me to celebrate the holidays with my aging parent or grandparent?" "How will this affect flu season?" We try to look ahead at what's coming and keep in mind the questions that are keeping our audiences up at night. In most cases, they're the same questions we all have—not as MLH employees, but as people trying to make it through this time, too.
With news about patients delaying medical care because of coronavirus concerns, can you talk about the importance of sharing compelling health information that encourages the community to take action on their well-being?
We have seen a dip in the number of people visiting our emergency departments for issues like heart attack and stroke. These are really serious issues that require immediate medical care, and we are lucky that we have several partnerships that have allowed us to get the message out there about the importance of continuing to seek care in an emergency. We recently partnered with the American Heart Association and Trinity Health Mid-Atlantic on the Don't Die of Doubt™ campaign, whose message was just that: If you're not sure about your symptoms, if you're not sure if you should visit the emergency room, don't doubt yourself. Go. It could save your life. Even in the midst of a pandemic, hospitals are still the safest place to be in a medical emergency.
---
Keep Employees Top-of-Mind During COVID Open Enrollment
Open Enrollment can be a challenge. This year, with COVID-19 forcing businesses to adapt to evolving workplace structures, the challenges are multiplied. But while you may have to reevaluate your Open Enrollment strategies, you also have a unique opportunity to reinforce your commitment to the well-being of your employees.
As you plan for your company's Open Enrollment, keep your employees top of mind with these tips:
Consider the World Around You
Now more than ever, your employees are paying attention to their benefit options. The health and financial impacts of the pandemic have been tremendous, and people are eager to reassess their health insurance and financial options. They'll need you to thoroughly explain this year's health and financial well-being benefits―and the costs associated with each―so they can feel confident and secure with their selections moving into the year ahead.
Expect and Encourage Questions
In the absence of in-person benefits fairs and one-on-one meetings, your employees need a way to reach you with specific questions. Along with a heightened interest in benefits, employees may be dealing with unexpected COVID-related life changes that will affect their Open Enrollment selections. Help them with their selections by being ready to answer their questions and letting them know who to contact for more information.
Keep the Focus on People
During this time of isolation, you need to find ways to keep people connected. Identify "influencers" who are connected interdepartmentally to help share information about Open Enrollment and the value of your company benefits. To help employees understand the usefulness of the benefits, ask coworkers for testimonials about how they've implemented these benefits into their lives.
Involve Families
Benefits are a family decision. Your employees are likely spending more time at home, which means their spouses can play a greater role in selecting benefits. Help your employees continue the conversation around the kitchen table by tailoring webinars and information sessions to include spouses, or by providing a list of topics they can discuss with family members.
---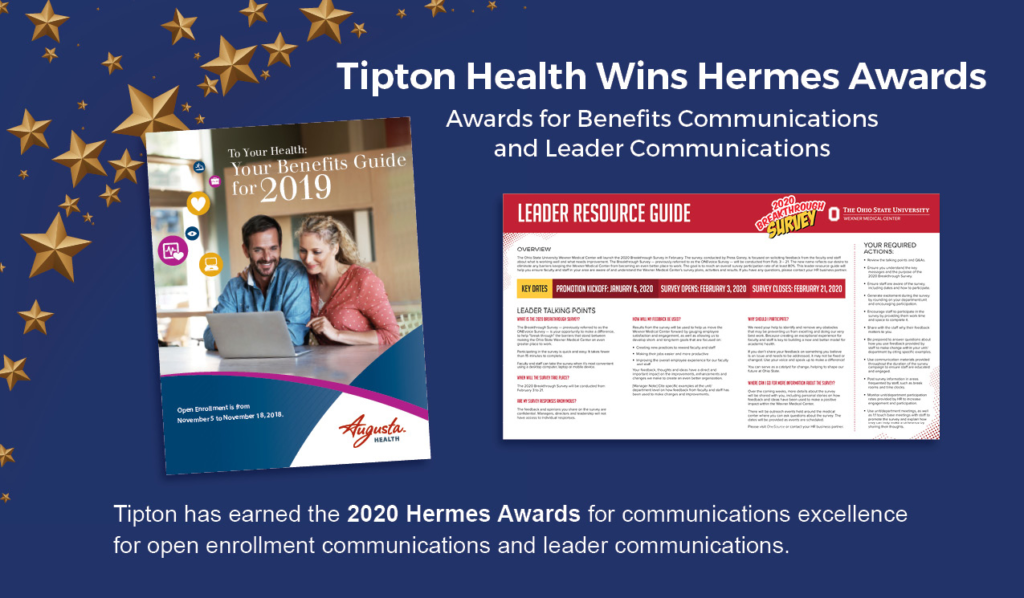 Tipton Health Wins Hermes Awards for Benefits Communications and Leader Communications
Tipton Health Communications earned the 2020 Hermes Awards for communications excellence for open enrollment communications and leader communications.
The Tipton Team was recognized for its work to create a benefits guide for Augusta Health, in Fisherville, VA, and for creating a leader resource guide for The Ohio State University Wexner Medical Center.
The Tipton team—consisting of Nicole Fullerton, strategic communications manager, and Karen Zucca, creative director—partnered with Augusta Health to support its benefits guide and open enrollment efforts. To help Augusta Health employees understand and take advantage of the benefits available to them, Fullerton and Zucca used the organization's brand in a visually appealing manner designed to make the benefit information more comprehensible.
"The annual open enrollment period is important for employees, but the benefits choices and programs can be overwhelming and difficult to understand," Nicole said. "Together with the amazing benefits team at Augusta Health, we were able to create a comprehensive, easy-to-use guide that enabled employees to make the most appropriate benefits selections."
The Ohio State Wexner Medical Center tapped the Tipton team—consisting of Phil Ellingsworth Jr., strategic communications manager, and Karen—to support its 2020 employee engagement survey. Tipton delivered a comprehensive branding campaign, including the award-winning leadership guide
The Hermes Creative Awards – administered and judged by the Association of Marketing and Communication Professionals (AMCP) – is an international competition for creative professionals involved in the concept, writing, and design of traditional and emerging media. The Hermes Creative Awards has more than 300 categories and entrants are from across the globe.
---
Partner with Expert Communicators—and Keep Costs Down
Here's an understatement: 2020 has been an extremely challenging year and it's not over. After scrambling to manage the COVID-19 crisis, hospitals and health systems around the country are now dealing with the economic aftermath.
Struggling to steady bottom lines ravaged by the pandemic, hospital administrators are being forced to make difficult financial decisions, including budget cuts and staff reductions. For many organizations, communications and marketing departments and their budgets have been downsized and reduced.
The reality is hospital marketing and communications teams must do more with less.
Imagine this: You receive a call at 8 a.m. on a Friday from your CEO saying that you need to overhaul your internal communications plan and present your updated strategy to the hospital leadership team at a 9 a.m. meeting on Monday.
Or this: Layoffs claimed a key member of your digital marketing team, but one of your service lines is still demanding an email marketing campaign and they want it to go out next week.
With fewer staff members to support these different initiatives, you may be asking yourself, "How am I even going to get this done in time?"
The answer is obvious at least to all of us at Tipton Health. We can help you. With our Communications Services Solutions, we can help you meet any project requests caused by staffing challenges.
Our expert team of creators, strategists and designers are ready to step in as a full-service extension of your team. We've worked with small and large organizations alike – both as in-house and agency professionals. We have the skill and expertise to help you leverage your voice and address your communication challenges head-on. With more than 190 hospital and health system clients around the country, we understand the complexities and nuances of the healthcare industry.
Tipton Health's Communications Services Solutions can help you with a wide array of communications projects, including:
Internal and External Communications
Executive Communications and Strategic Advisement
Media Relations
Crisis Management
Copyediting
Brand Development and Management
Email Marketing
Web Content Development
Graphic Design
Illustration
2020 has taught all of us the importance of being flexible and adaptable. In these times of change, we work closely with you to tailor our services to meet your specific and unique needs.
Turn to Tipton as an Extension of Your Team
Don't go in it alone – turn to Tipton as a trusted partner who will help you advance your goals and priorities in a budget-conscious way. If you would like to learn more about our Communications Services Solutions, call us at 302-454-7901, or send us an email at info@tiptonhealth.com.
Learn more about Tipton Health's Communications Services Solutions.
---

Keys to Success
Best Practice Recommendations from Tipton Health Communications
Use A/B Testing for Stellar Conversions
A/B testing in email marketing is the best way to ensure consistent clickable results. By creating different versions of an email and tracking their open and click-through rates, you can determine which version works best for your audience. Experiment with multiple elements in your email campaigns—visuals, subject lines and preheader text, and the call to action—but be sure to test each of these elements separately. You'll be on your way to boosting audience engagement and garnering more website visits!