Welcome!
Thank you for reading the January 2021 edition of the Magnet® Newsletter from Tipton Health Communications. This edition features tips for successful project management, how to keep your resiliency tank full, and other tips and insight from the experts at Tipton Health Communications.
Article Navigation
Keys to a Successful Transition to Practice Program

Transitioning into a real work environment is challenging for all new graduates, including nurses. New nurses often feel underprepared and overwhelmed, which can lead to plummeting new graduate retention rates. Implementing an effective transition to practice program ensures that over their first year on the job, new nurses will feel supported and prepared to take on any challenge that's thrown at them.
Mary Rose Papciak, Tipton Executive Nursing Consultant, shares her key insights into running an effective transition to practice program.
Mary Rose is not only responsible for the nurse residency program at NewYork-Presbyterian Hospital, but also serves as a Practice Transition Accreditation Program (PTAP) appraiser team leader for the American Nurses Credentialing Center (ANCC).
What are the basic components of a typical transition to practice program? 
Programs vary in length across organizations, but six months to one year is the recommended length of a program. A full year is the gold standard to really support nurses during their transition into the role of registered professional nurse. When setting up your curriculum, search the literature and create evidence-based program goals and objectives that align with your organization's mission, vision and values.
You should also develop a variety of teaching strategies to include in your program curriculum to meet the needs of every nurse. And be sure to assess how these strategies are working over the course of the program. Take the time to train your preceptors to specifically support new graduates, as this can be very different from working with an experienced nurse.
After the 12-month program, are those new nurses fully prepared to work on the unit?
While we should do our best to ensure nurses feel fully prepared after their transition to practice program, an ideal program promotes lifelong learning for staff. Encourage continual learning by offering professional development opportunities for staff, hosting unit-based activities, promoting involvement in organizational committees and educating staff on professional governance.
It's also important to maintain a consistent, healthy work environment for all of your nurses, but especially new graduates. Through role modeling by preceptors and the support of their cohort and peers, your new nurses will transform into successful professional nurses.
Is it just the program coordinator that's responsible for the new graduate's education?
Definitely not. There's a host of people who should be involved in the transition to practice program. You should be engaging all stakeholders of the program, including the nurse leadership team, the executive team, organizational leaders, preceptors and the nursing professional development team. Throughout the course of the program, be sure to share outcome measures with these parties to show them the return on investment they're getting from the program.
It's also important to implement an evaluation process where you use feedback from nurse residents and your leadership team.
Any other considerations for a successful program?
Be sure to celebrate the hard work of your new graduates! They work hard during their first 12 months, while also orienting and learning. They've spent all year developing their professional selves, so take the time to celebrate their journey from being hired to practicing as professional nurses!
For more information on creating a successful transition to practice program, reach out to our Tipton consultants at info@tiptonhealth.com. Tipton Health also provides PTAP and CCNE document review support.
Words Matter—Decoding Magnet Questions
By: Moira Owens, Senior Magnet Writing Manager

Ask anyone who's taken Tipton's writers workshop with Michelle Beuscher, and you'll hear about the importance she places on the words in the Magnet questions. The reason is simple: Each word in a Magnet question provides a clue to, or a way to decipher, what you're being asked to describe and demonstrate in your stories.
Take the words "organization" and "organizational," for example. When you see one of those words in a Magnet question, chances are you need to align the nurses' efforts in your story with your hospital's strategic plan (not Nursing's plan). Note that you need to attach that plan as a supporting document (and you should use the plan that was in effect when the nurses were working on their initiative). 
Make sure you understand the Magnet definition for each nurse title. Some stories specify a particular level of nurse (clinical nurse, nurse manager, advanced practice nurse, assistant vice president/director or chief nursing officer) as your main character. If the question does not specify a level, you're free to use any nurse your hospital employs.
Recognize that your hospital may not use the same job titles as the American Nurses Credentialing Center. So when you're asked to write a story with an assistant vice president or director as the main character, read the definition of that level in the Magnet manual. Your hospital's "director-level" nurse might not align with the ANCC's definition—and that's grounds for your story getting "dinged" for additional documentation.
SE9 can be a bear to write, right? Don't forget you need to provide supporting evidence for all six components—but you have a max of five supporting documents! We often find that merging "Organizational Enculturation" and "Development and Design" can work. Possible documents to use are a scavenger hunt or an orientation checklist combined with a detailed calendar or agenda to illustrate how the program is organized. 
Our team is always available to answer any questions you have and provide the support you need. Contact us at any time at info@tiptonhealth.com.
The SPARK of Caring

As COVID-19 cases begin to rise across the country again, we all need to focus on not only caring for ourselves but caring for each other in our everyday acts. In Tipton's November 17 webinar, cohosted by the Philippine Nurses Association of America Inc. (PNAA), Dr. Jean Watson, PhD, RN, AHN-BC, FAAN, LL-AAN, returned to remind us how important it is to have a caring mindset.
Mary Joy Garcia-Dia, DNP, RN, FAAN, president of the PNAA, shared the leadership theme she chose to begin her presidential term with: SPARK. SPARK stands for Stories of People, Achievements, Resilience and Kindness. While her original goal was to use storytelling to celebrate 2020 as the Year of the Nurse, Dr. Garcia-Dia realized that her theme is even more fitting when applied to the resilience nurses have shown in the fight against COVID-19.
Dr. Watson, founder of the Watson Caring Science Institute, tied in the SPARK theme, noting that this painful time reveals how we are all connected. The pandemic also has put a spotlight on what nurses have been doing behind the scenes for years through their practice of care.
To learn how you can apply Dr. Watson's 10 principles of caring to your nursing practice, as well as your everyday life, click here.
To register for our upcoming webinars click here.
Top Off Your Resiliency Tank with These Simple Tips

Many of us are feeling extreme burnout after nearly a year of dealing with COVID-19. But few of us feel it as intensely as healthcare workers. In Tipton Health's December 15 webinar, Dr. Jeff Doucette, DNP, RN, NEA-BC, FACHE, FAAN, senior vice president and chief nursing officer at Thomas Jefferson University Hospitals in Philadelphia, offered tips on keeping your "resiliency tank" full when work is constantly draining it.
You probably spend more waking hours at work than you do anywhere else, so it's important to feel good about the work you're doing and the environment you do it in. Here are a few strategies for strengthening your resiliency and keeping a positive attitude.
Finding Positivity
The way you choose to react in a situation can dramatically affect how you maintain and boost your resiliency—especially under the pressure and stress you feel at the moment. Try to find the positive in every situation and see the glass half-full. You'll not only inspire others around you to be more resilient, you'll boost your own resiliency as well. 
Work-Life Effectiveness
In the quest to achieve work-life balance, everyone seems to be looking for a one-size-fits-all fix. Don't fall into that trap! Instead, think about what works best for you personally when juggling work and the rest of your life. Some of us do better working at 100% capacity from 9 to 5 and completely shutting work out after hours. Others do better taking breaks throughout the day and checking emails after the workday has ended. It's different for everyone—and it's never perfect. When you adjust your expectations, you'll gain the freedom to define your own balance.
Practicing Mindfulness
Live in the moment. By being more present at work, you can turn even the smallest events into powerful moments. The keys to being present are doing everything with intention—and without judgment. And remember, you need to apply that nonjudgmental attitude to yourself, too. Remind yourself that the skills you bring to your role are exactly what's needed in the moment and practice self-compassion.
Maintain awareness. Keep tabs on your feelings by doing a head-to-toe scan, especially in stressful situations. Staying ahead of your emotions will help you slow yourself down enough to choose how you react.
Practice gratitude. Find opportunities during the day to connect with others and remind yourself what you have to be grateful for. Studies show that practicing gratitude during stressful moments can alter your brain's chemical reaction to stress by lowering your cortisol levels and increasing your DHEA levels.
To register for our upcoming webinars click here.
Check an Item Off Your Magnet To-Do List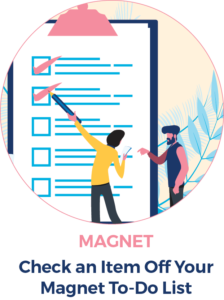 For those of us who are balancing a long to-do list at work, many projects can seem overwhelming when we sit down to begin. A multiyear project like Pathway to Excellence® designation or Magnet Recognition® might appear impossible, but by prioritizing tasks and applying key project management skills, you can achieve designation success.
Michelle Beuscher, Tipton's Director of Hospital Excellence, heads our MPD Bootcamp, educating Magnet Program Directors across the nation on what to expect during the documentation phase of their Magnet journey. Michelle shares her top project management tips below for how to tackle something as daunting as a designation like Magnet or Pathway.
Start early and develop a plan. It can take longer than you think to identify all of the goals you have for your project and the strategies to work through each of them. Give yourself ample time before your project officially "launches" to outline your steps to success.
Don't go it alone. Build a team that can support you and add their own expertise to your venture. Nursing council members, leadership committee members and executive representatives can strengthen your project by offering feedback and lending a helping hand.
Establish clear accountability. Now that you have your plan and your team, it's time to set up your chain of command. Let everyone on your team know who is responsible for which steps across the project and who can be turned to as a resource when needed. You also will want to work with your CNO to establish a method to ensure that all of your team members will be held accountable for their piece of the puzzle.
Stay on top of the details. In a project like Magnet designation, which runs across multiple years, it's easy to miss all of the little pieces that need to be in place to accomplish your larger goals. Use the tools you have available to monitor the status of each of these small details to ensure success.
Communicate with leadership. Develop effective communication strategies to keep your leadership teams, especially your CNO, informed on the progress you've made and the challenges you're facing. Keeping leadership in the loop can be as simple as including them in a monthly committee meeting, sending them quarterly progress updates or involving them in the process directly.
Even when you're facing a project that spans multiple years and passes through many hands, there's no need to get overwhelmed. By applying strong project management strategies and breaking the tasks down bit by bit, you're sure to succeed.
Email Tipton at info@tiptonhealth.com to learn more about how you can sign up for our MPD Bootcamp or receive support for your designation journey. 
Is Your Narrative Aligned with your Graph?
By: Elizabeth Abrahams, Director of Magnet Review 

Sorting through data can be a tricky process. By the time you finish checking and reporting all the outcome data for our EOs, you can easily forget to correlate this data back to the narrative you're writing. Elizabeth Abrahams, Tipton's Director of Magnet Review, shares her top tips for ensuring your narrative matches up to your data.
An essential component in writing EOs is the alignment of your narrative (the EO's story) with the outcome data reported in your graph. The Magnet® appraiser will read through the interventions section of your narrative to identify the population, then look in the Outcomes section and graph to see if that same population's/unit's data is reported in the graph.
For example, if you are writing a story for EP16EO—Evaluating Patient Safety Data, carefully read the criteria for this EO before you begin writing. This EO requires data at the unit level to be reported in the Outcomes section. If the hospital-wide nursing falls team is working to reduce the falls with injury rate in the hospital, you will have hospital-wide falls rate data. But, in this EO, we need to tell the story of one particular unit's efforts to evaluate the patient safety data and then report an improvement in their falls rate in the Outcomes section and graph. Additionally, the appraiser will be looking for alignment of the dates of your interventions in the narrative with the intervention dates in your graph. Before you determine your narrative to be "finished," make sure you complete one last check to make sure that your narrative aligns with your graph.
Need help with writing your EOs? Contact Tipton at info@tiptonhealth.com.
Pathway to Success—Caring for Your Nurses on Every Level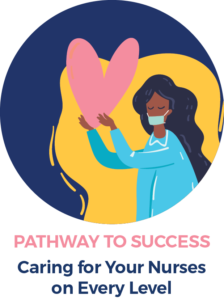 In a year of PPE shortages, emergency innovation and record patient numbers, what are your nurses saying about their leadership support and the work environment your organization has created?
Although we can't control the external factors that ratchet up the demands on our workforce, nurses at Pathway-designated organizations are instrumental in controlling the practice environment— and that can significantly boost staff satisfaction and engagement. Empowering nurses and creating a positive practice environment are more important than ever and key to retaining our talented, dedicated nurses.
What makes Pathway special?
A Pathway to Excellence designation is built upon a positive practice environment where nurses can excel and thrive. Obviously, even in "normal times," this would be the setting where most nurses would want to work. But in the midst of COVID-19 surges, when healthcare workers are under immense pressure, they need to know without a doubt that the in a hospital they work in values and supports them.
The most recent Pathway manual highlights new EOPs focusing on compassion fatigue and physical fatigue. Especially right now, when burnout among nurses is high and it feels as if there's no end in sight, to know that the organization where they work is dedicated to their well-being can make all the difference in the world. Pathway organizations foster work-life balance, supportive leadership, interprofessional collaboration and nurse development.
Pathway designation demonstrates your ability to create a positive practice environment for your nurses and is a major selling point for new recruits.
My hospital already has Magnet designation. Should we pursue Pathway?
The answer is simple: Yes! Hospitals can benefit from both Magnet and Pathway designations. Organization have used both the Magnet and Pathway frameworks to create their blueprint for successful key measures in nurse engagement, nurse retention, interprofessional collaboration, safety, quality and outcomes.
Unique to Pathway is the well-being standard and demonstration of the organization's commitment to staff having a voice in organizational initiatives to promote work-life balance. Pathway emphasizes a supportive environment with a shared governance structure that values nurse contributions in everyday, every-shift decisions affecting their clinical practice and well-being. Such hallmark practices help retain current staff and attract future prospects.
By combining these two designations, a hospital can boast not only nursing excellence in caring for patients, but also excellence in its focus on staff.
If you feel that your organization may be interested in pursuing a Pathway designation, write to us at info@tiptonhealth.com.