In our upcoming webinar Philippine Nurses Association of America (PNAA) president, Mary Joy Garcia-Dia, will co-host with Jean Watson, PHD, RN, AHN-BC, FAAN, (LL -AAN), founder of the Watson Caring Science Institute speaking on self-care for caregivers.
Mary Joy Garcia-Dia, DNP, RN, FAAN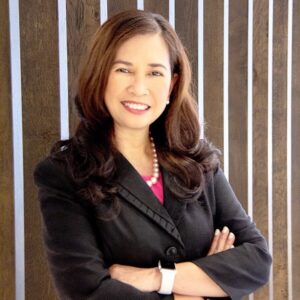 Mary Joy Garcia-Dia is the president of the Philippine Nurses Association of America (PNAA), as well as the program director for Nursing Informatics in the Information Technology Department and the Center for Professional Nursing Practice at NewYork-Presbyterian Hospital. During her remarkable career, Mary Joy has remained passionate and active in the nursing community.
Mary Joy serves on the Equity, Diversity and Inclusion Steering Committee for the Future of Nursing: Campaign for Action, a joint initiative of the AARP and the Robert Wood Johnson Foundation. For the last eight years, she has been an advisor to the PNAA Human Rights Committee on matters involving unfair labor practice.  In her capacity as PNAA President, Mary Joy sits as Board Member on the Alliance for International Ethical Recruitment Practices and provides recommendations on contracts and recruitment practices to the Philippine Overseas Labor Office, Philippine Consulate in Washington DC.  Mary Joy was also a panel member in the AARP Public Policy Institute Roundtable Discussion in 2016, discussing the AARP's CARE (Caregiver Advise, Record, Enable) Act. As a past member of the National Advisory Council on Research for Asian American, Native Hawaiian, and Pacific Islander Health, Mary Joy continues to raise educational awareness in addressing the underrepresentation of minority health through grant projects (Patient Centered Outcomes Research and All of Us).
Mary Joy values the education of healthcare professionals, holding multiple academic positions along with her other roles. She serves as a Nursing Informatics MSN course developer at the City University of New York School of Professional Studies, an adjunct assistant professor at the Frances Payne Bolton School of Nursing at Case Western Reserve University, and an adjunct faculty member at the New York University Rory Meyers College of Nursing.
Mary Joy received her bachelor's degree in nursing from the University of Saint La Salle College of Nursing and her master's degree in nursing informatics from New York University. She completed the Minority Nurse Leadership Institute fellowship program at Rutgers University College of Nursing in 2006. In 2015, Mary Joy received her doctor of nursing practice from Case Western Reserve University.
Click here to register for the webinar!