In our recent webinar Cleveland Clinic chief caregiver officer, Kelly Hancock, will speak about her unique role, as well as caregiver resiliency and nursing challenges in COVID-19.
Kelly Hancock, DNP, RN, NE-BC, FAAN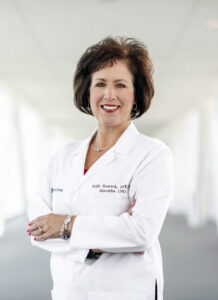 Kelly Hancock is Chief Caregiver Officer for Cleveland Clinic health system. She is responsible for leading the development and implementation of all aspects of caregiver engagement for Cleveland Clinic's 70,000 caregivers. With a focus on enhancing the health system's unique team-based culture, Dr. Hancock provides strategic direction and expertise for the organization's human resources function, domestically and internationally. She consistently works to build and retain exceptional caregiver teams through the optimization of human resources policies and programs.
An innovative thought-leader, Dr. Hancock delivers advisory services in areas such as leadership, coaching, employee relations, talent acquisition, compensation, organizational design and change, performance management, learning and development, and more. She continuously collaborates with fellow executive leaders to ensure Cleveland Clinic caregivers embody the organization's culture, vision and values. Additionally, she provides direct oversight of daily operations for the human resources and nursing teams.
For more than 25 years, Dr. Hancock has served Cleveland Clinic health system, its patients and communities. Most recently, she was Executive Chief Nursing Officer for the health system and Chief Nursing Officer for the main campus, a dual role she held for 9 years. Dr. Hancock is known for her dedication to excellence and professionalism. She provides a strong administrative and clinical atmosphere that promotes staff education, development, and cohesion between all disciplines, professional nursing care and world-class patient care.
Dr. Hancock obtained her DNP from Chamberlain College of Nursing and MSN from the Breen School of Nursing at Ursuline College in Pepper Pike, Ohio. She is a board-certified Nurse Executive through the American Nurses Credentialing Center (ANCC), a member of the American Organization of Nurse Executives, the American Association of Critical-Care Nurses, and the Honor Society of Nursing – Sigma Theta Tau International. Dr. Hancock became a member of the Fellows of the American Academy of Nursing in 2019, was awarded Crain's Cleveland Business' Notable Women in Healthcare in 2018, the Sones/Folvaro for Excellence in Nursing Collaboration in 2017, Distinguished Alumnae Award from Ursuline College in 2013, the ANCC Circle of Excellence Award in 2012, and the 2010 Maria and Sam Miller Professional Excellence Nurse of the Year Award. She is also a recipient of the "Bruce Hubbard Stewart Fellow Award" and received "The Abbie Porter Leadership Award" in 2002 and 2009, which highlights excellence in nursing leadership.
Click here to watch Dr. Hancock's webinar!