In our upcoming webinar, A Discussion on Race, Inclusive Practices and Nursing, nationally recognized nursing leaders will discuss the aforementioned topics during this crucial time of important public debate on systemic racism.
Ena Williams, MBA, MSM, BSN, RN, CENP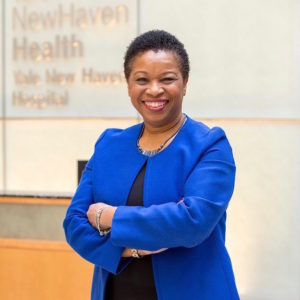 Ena Williams currently serves as Chief Nursing Officer at Yale New Haven Hospital (YNHH), a 1,541-bed, Magnet®-designated, Level I trauma, academic medical center
Williams began her nursing career in Jamaica where she served in numerous staff and leadership roles. After migrating to the US, she joined the team at Yale New Haven Hospital as a staff nurse and has progressively advanced to her current role. She has served as a coordinator, an educator, manager and ultimately the Nursing Director of Perioperative Services. She was promoted to VP and Associated Chief Nurse in 2012 and assumed the current role of Senior Vice President and Chief Nursing Officer at YNHH.
Williams earned her diploma in nursing from the University Hospital of the West Indies, her BSN from Western Governors University and her MSM/MBA from Albertus Magnus College. She is currently enrolled in a PhD program. Williams is a graduate of the GE Health Management Nurse Executive Fellowship and is board-certified in executive nursing practice by the Association of Nurse Executives. She has published several journal and book chapters and is a frequent speaker at local/national nursing conferences.
Williams currently serves on the board of the Connecticut Hospital Association, the Gateway Community College Foundation, The Whitney Center, the nominating committee for the American Organization for Nursing Leadership (AONL). She is a member of the AONL, ANA, and a lifetime member of the National Black Nurses Association. Williams has been recognized with numerous awards: the Trailblazer Award from the National Black Nurses Association (2017), the Cornell Scott Health Leadership Award from the NAACP of Greater New Haven (2015). In 2012 she was recognized by the West Indian Social Club of Hartford as an outstanding Jamaican in the field of healthcare (2010) and in 2012 as an outstanding Jamaican in America in recognition of the 50th anniversary of Jamaican independence.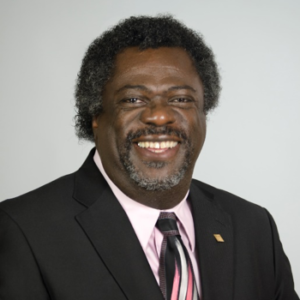 Ernest J. Grant, PhD, RN, FAAN
Dr. Ernest J. Grant is the 36th president of the American Nurses Association (ANA), the nation's largest nurses organization representing the interests of the nation's 4 million registered nurses.
A distinguished leader, Dr. Grant has more than 30 years of nursing experience and is an internationally recognized burn-care and fire-safety expert. He previously served as the burn outreach coordinator for the North Carolina Jaycee Burn Center at the University of North Carolina (UNC) Hospitals in Chapel Hill. In this role, Dr. Grant oversaw burn education for physicians, nurses and other allied healthcare personnel and ran the center's nationally acclaimed burn prevention program, which promotes safety and works to reduce burn-related injuries through public education and the legislative process. He also serves as adjunct faculty for the UNC-Chapel Hill School of Nursing, where he works with undergraduate and graduate nursing students in the classroom and clinical settings.
Dr. Grant is frequently sought out for his expertise as a clinician and educator. In addition to being a prolific speaker, he has conducted numerous burn-education courses with various branches of the U.S. military in preparation for troops' deployment to Iraq and Afghanistan. In 2002, President George W. Bush presented him with a Nurse of the Year Award for his work treating burn victims from the World Trade Center site. In 2013, he received the B.T. Fowler Lifetime Achievement Award from the North Carolina Fire and Life Safety Education Council for making a difference in preventing the devastating effects of fire and burn injuries and deaths within the state.
An active participant in professional organizations, Dr. Grant is a past chair of the National Fire Protection Association board of directors and served as second vice president of the American Burn Association board of trustees. He is also a member of Sigma Theta Tau and Chi Eta Phi. Dr. Grant served as president of the North Carolina Nurses Association from 2009 to 2011. In 2002, the ANA honored him with the Honorary Nursing Practice Award for his contributions to the advancement of nursing practice through strength of character, commitment and competence.
Dr. Grant holds a BSN degree from North Carolina Central University and MSN and PhD degrees from the University of North Carolina at Greensboro. He was inducted as a fellow into the American Academy of Nursing in 2014. He is the first man to be elected to the office of president of the ANA in its 122 years of existence.
Martha A. Dawson, DNP, RN, FACHE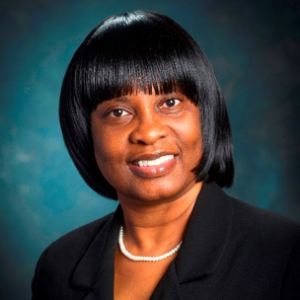 Dr. Dawson is the 13th President of the National Black Nurses Associates, Inc. In 1976, Dr. Dawson earned her bachelor's degree and in 1984, she earned her master's degree, both from UABSON.   In 2010, she earned her Doctor of Nursing Practice from Case Western Reserve University Frances Payne Bolton, School of Nursing (FPBSON). In 1984, Dr. Dawson completed her hospital administration residency at Gaston Memorial Hospital, NC.  She has experience in academic medical centers, community hospitals, and academia. She served in senior-level positions such as, Vice President of Clinical Operations (2000-2006), Chief Nurse Executive (1997-2006), Associate Chief Operating Officer (1993-1997), Nursing Director (1989-1993) assistant to VP of Nursing (1984-1989), and nurse manager (1979-1983). She managed her own healthcare consultant business.
In 2019, Dr. Dawson was inducted into the Alabama Nursing Hall of Fame Nurse.  She is a Scholar in the Sparkman Global Health Center at the University of Alabama at Birmingham (2017), Fellow in the American College of Healthcare Executives (2007), Robert Wood Johnson Nurse Executive Fellow (2000 Alumni), and Johnson & Johnson Wharton Nurse Administrative Fellow (1999 Alumni).
Dr. Dawson is active in 15 local, state, regional and national professional organizations.  She has served as the President for Birmingham Regional Organization of Nurse Leaders., and President for the Alabama Organization of Nurse Executives. She is active on many local, state and national boards.
Dr. Dawson has served as principal investigator, project director and coordinator on HRSA and foundation grants and as a grant consultant and program evaluator. Her translational research and scholarship focus are on career barriers and mobility, management development, succession planning, career progression, and workforce diversity and planning. She has publications in books, journals, newsletters, and podcasts. She was a contributing author in the Drive-Thru Flu Shots: A model for mass immunization that was adopted the CDC as their model that is being used during the COVID-19 pandemic.
Dr. Dawson is an experienced, dynamic health care leader and a sought-after lecturer, workshop and seminar leader focusing on leadership, workflow design, organizational systems assessment, succession planning, workforce development, community health, strategic planning, health careers, program planning, and system-wide assessment and leadership development.
Click to register for A Discussion on Race, Inclusive Practices and Nursing.