Learn about Nikki Sumpter who will be leading Tipton's Webinar, Managing Nurse Expectations and Engagement During Layoffs or Furloughs. Click here to register. 
Nikki Sumpter, a leader celebrated for inspiring positive change and engagement across large healthcare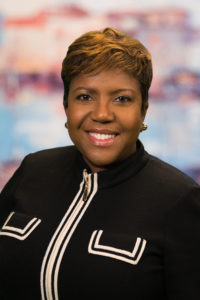 systems, serves as senior vice president and chief human resources officer of Atlantic Health System (AHS). Under Nikki's leadership, the integrated care delivery system—which includes 17,000 team members and more than 400 sites of care—was honored for the 12th consecutive year as one of Fortune's 100 Best Companies to Work For. Nikki was honored with the 2018 Great Place to Work For All™ Leadership Award, designed to recognize the integral strategic and cultural influence of talented women leaders from Fortune 100–recognized organizations.
Nikki and her team are committed to encouraging the development of AHS caregivers every day; promoting health and wellness; fostering diversity and inclusion; and extending system initiatives connected to sustainability, charitable giving and community involvement. Nikki propels the team with her fundamental belief in a life of service to others and in constantly striving to surpass one's own expectations of what is possible when working together.
Before joining Atlantic Health, Nikki served as senior vice president of human resources and learning at JPS Health Network in Fort Worth, Texas. While there, she led enterprise-wide strategies founded on a commitment to excellent patient-centered care and a best-in-class workplace. With her successful redesign of employee recognition, benefit plans, and workforce and leadership development programs, JPS was honored with a Press Ganey Commitment to Excellence Award for Employee Engagement. While at JPS Health Network, Nikki was named a Most Powerful Businesswoman by the National Diversity Council and Texas Diversity Magazine, and JPS was recognized by the Dallas Morning News as a Top 100 employer.
Nikki holds a master's in human resources development from Villanova University and a bachelor's in business administration – management from the University of North Carolina at Charlotte. She is a certified senior professional in human resources, and a graduate of the Corporate Leadership Council Human Resources Leadership Academy. Nikki is a member of the board of directors for the Morris-Sussex-Warren Workforce Development Board in New Jersey as well as Cornerstone Family Programs & Morristown Neighborhood House.